Chevy Blazer Vortec Crate Engines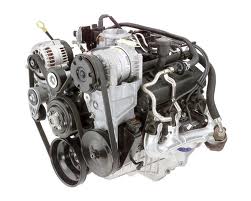 Chevy Blazer crate engines make a great addition to any project car or replacement in an SUV. The GMT330 base is what the Blazer used. This makes it easy to install a crate motor. This means less modifications and faster installation times. Our network of buyers comes to this website to find crate engines for sale. We're one of few sellers online that actually offers OEM Chevy Blazer Vortec crate engines at sale prices. Part of what we do for customers here at https://www.crateenginesforsale.com is provide exceptional service for the lowest possible prices. Let us save you some money today.
The Vortec 4300 was created toward the end of the 1980s. This engine was featured prominently in the 1990s Blazer and GMC Jimmy respectively. The 4.3L found a permanent home with these vehicles where it remained until they were discontinued. The good thing about these engines is that we can still find them for sale. General Motors crate engines provide you with the quality you are searching for in a new engine online. There are some companies passing off remanufactured engines as crate engines. We give you the real thing here and probably charge you less to own it.
Chevy Blazer Vortec Crate Engines
How do we keep pricing so low? We get this question a lot. There are multiple ways that we can answer it. One of the easiest answers is our ordering policy. We have taken the necessary time to work with specialists. It takes time to setup wholesale accounts and test companies to find out who can provide the best quality. It is not uncommon to go through more than one seller. We frequently find excellent distributors that we use to stock our crate engine inventory. This allows us to plan in advance for customer orders. We order big so that our customers don't have to. This is how we save a lot of money for everyone.
We don't have to do warranty work. This is another reason our Chevy Blazer crate engines cost less. If we had to fix everything we sold, there would be no profit left for us to remain in business. Companies that offer low prices and do a lot of warranty work should be a red flag to you. We give low pricing and have even lower rates of warranty issues. All of our work is covered by a parts warranty just in case customers need this additional assurance. Our crate engines for sale here are clean. These are ready for install and arrive complete. You add the additional components that you want during the install. We make it easy to own a V6 crate engine.
Chevy Blazer Vortec Crate Engines Quote
You can do two things and find out our sale prices. The first is by calling (336) 355-5679. This is our quote line. We use this to help make it free to provide customers with our low engine pricing. We'll help you instantly when you call. The next way is to use our quote form for online quotes. It's still fast and you won't need to call us. Find out how cheap our Vortec V6 crate engines are today.