Ford Taurus 3.0L Crate Engines for Sale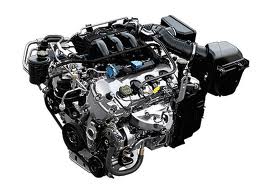 Ford Taurus is a great car. It was so great that it boosted Ford to new heights. The moment that sales slipped in favor of SUVs Ford took away its prized possession but only for a little while. The Taurus is insanely popular and it's not due to the interior or paint schemes. What every Taurus owner knows is something that average car owners do not. The power of the 3.0L engine is what is the most appreciated. We know the love affair with the Taurus engine. This is one reason we include Ford Taurus 3.0L crate engines for sale in our current engine lineup.
The great thing about the 3.0L engine is that you don't need to buy a new Duratec to get it. Ford dealerships can be awfully expensive when you want a replacement. Owning a Taurus is not even required. The 3.0L will fit easily into a multitude of cars in the Ford lineup. What we do is that we offer a completely unique and custom built crate engine that is Ford certified. This gives you the confidence in knowing that a crate engine from our company is totally legitimate. We are one of few OEM sellers you can find on the Internet.
Ford Taurus 3.0L Crate Engines for Sale
Getting your hands on the true V6 power of a 3.0L is what we give you easily here. You won't pay a lot. You won't even wait long to get it. We know how curiosity can get to you when you're waiting. We make sure things run smoothly after purchase. What you are buying is a completely assembled engine. These motors are ready to drop in instantly. If you want to upgrade the engine at your convenience you can. We don't limit you. It's your engine once it leaves here and will remain that way. We know that not every project car or replacement purpose will be the same for every Ford crate engine sold here.
What about a warranty? Don't worry. You're totally covered on that too. All first-time repairs that happen due to our OEM part problems or labor are completely covered. We don't harass you or make you feel uncomfortable if you approach us about an issue. We're in the engine business. Things happen. It's normal. It's how a company responds and what measures are taken that is important. We are honest crate engine sellers. We do everything to help you both before and after an engine sale is complete. You won't regret any experience you have here with a 3.0L engine. Our customer quality commitment is definitely second to none.
Ford Taurus 3.0L Crate Engines for Sale Quote
It takes a couple of seconds of your valuable time and you'll learn what our pricing is for Ford crate engine. Try the form we created just for you. It's really fast. The best thing is that you will know quickly how much to pay, any related shipping costs and how to contact us when you want to order. If you want a phone quote, just dial (336) 355-5679. We work fast for you.