GM Performance Crate Engines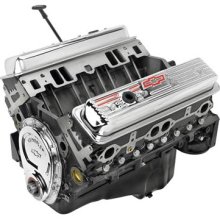 A crate engine from General Motors has a long history in the automobile industry. Some of the very first high performance engines that were put into cars were produced by GM. Much of the time period of the muscle car era was lead by General Motors cars. We bring the legacy of these engines into your car with our low cost GM performance crate engines. You do not need to spend a fortune to get the horsepower that will take your car to new levels of acceleration. We stock only the absolute best engines that our money can buy for sale to you.
When buying one of our engines, you get more than an invoice for your investment. Since these are custom built motors, there are no risks of defects or problems that can remain undetected. This is not possible purchasing from scrap yards or auction websites. What you get is a brand new engine that is ready for installation as soon as it arrives to your door. There are no modifications required and you can easily have our engines dropped in during a weekday or weekend build.
Performance Crate Engines By GM
If you have never purchased a crate engine before, you have nothing to fear regarding quality, shipment or installation. One of our engines is just like what a dealer will sell to you only without the high price tag. Great care has been taken to provide you with brand new parts and an error-free assembly. All performance GM performance crate engines we sell arrive to you by safe transport from known shipping carriers. We are very cautious about the companies that we let handle our delicate engines. We have a zero tolerance policy for shipping damage or errors during transport.
A sample of our 2012 GM Goodwrench inventory includes the following crate engines:
• GM LSX454 Crate
• GM LSX376 Crate
• GM LS56 Corvette Crate
• GM LS59 Corvette Crate
• GM LS327 5.3L Crate
• GM 572/620 Crate
• GM ZZ454/440 Crate
• GM Small-Block 383 Crate
• GM Small-Block 385 Crate
• GM Small-Block 350/290 Crate
You make the choice of purchasing a kit or assembled GM performance crate engines. You still get high quality and OEM parts used for the build. We do not make sacrifices or cut horsepower by using low cost aftermarket parts. We know the GM name has been established through several brands, but one thing that has never been degraded is the quality. We know what is out there online being sold to you and we choose to be different.
Get your free quote by completing our quote form. We welcome your call and questions at (336) 355-5679. We guarantee our low prices and inventory.