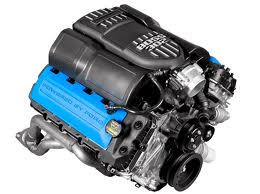 The popularity of the Ford Falcon planted the seed of innovation that put Ford on the muscle car map. Times were changing fast in the early 1960s and family automobiles were being shoved aside for the emerging teenage population created after Word War II. The year was 1964 and Ford had already been in production for years developing what would become one of the most famous cars in history. We have a Mustang crate engine to fit your Ford.
Ford upgraded the early 4.3L displacement soon after car owners found out the power range of a Mustang. The new and improved 4.7L engine was introduced to feed the need for speed that created the tradition that is still in place today. Our Mustang crate engine inventory is packed full of very clean and expertly rebuilt engines from Ford. The body styling of the Mustang might have changed though the years, but the performance of the engines has stood the test of time.
Mustang Crate Engines Drop in Ready
One of the many things that our customers love about our Ford engines is the fact that our engines are easy to install. Our crate motors drop right into your Mustang without special modifications needed to the chassis. You have the option of professional installation or DIY installation of our Mustang crate engines. We give you a clean and powerful engine and you decide how you want to install it in your Ford vehicle. We do not complicate the installation or ordering process. We give you what you need fast.
We know that our customers are engine sellers, body shops, mechanics, warranty service centers and average car owners. Finding the right Mustang engine online does not have to be difficult. If you are searching for one of the following motors, the chances are we have the Mustang crate engine you need in our huge inventory.
2012 3.7L V6 Coyote
2011 3.7L Duratec
2010 5.0L V8
2009 4.0L V6, a 4.6L V8 and a 5.4L Super Charged V8 Cobra
2007 5.4L V8
2006 4.6L V8
2005 4.6L V8 GT
We have these newer Mustang motors for sale as well as the classic versions that you love. Our partnership with distributors around the world allows us to find the lowest mileage engines for direct sale to you.
Guaranteed Low Prices for Mustang Crate Engines
Ordering from our website will not take up a lot of your time. We know you want a great price and to be treated fairly. Use our quote form to obtain a price quote for the year and engine that you need. Our engine specialists are also available at (336) 355-5679 to answer questions or give a little more information about our Mustang crate engine inventory.